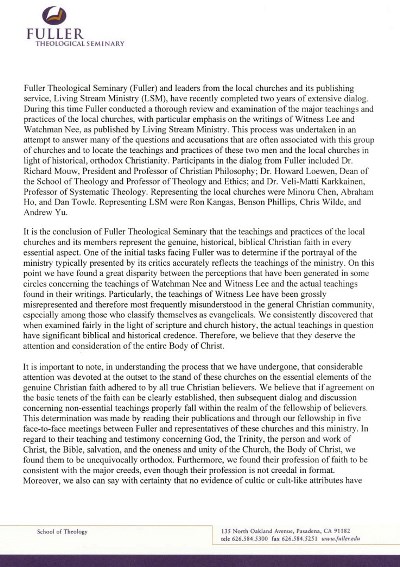 In late 2004 representatives of Living Stream Ministry (LSM) and the local churches entered into dialogue with a group of three distinguished faculty members at Fuller Theological Seminary—President Richard Mouw, Dean of Theology Howard Loewen, and Professor of Systematic Theology Veli-Matti Kärkkäinen. The Fuller panel of scholars performed an extensive and careful review and evaluation of our teachings and practices.
Of their meetings with the representatives of LSM and the local churches they said, "Our times together were characterized by sincere, open, transparent, and unrestricted dialog." As a result of their review, they issued a statement (also reproduced in this book) in which they concluded "that the teachings and practices of the local churches and its members represent the genuine, historical, biblical Christian faith in every essential aspect." They also reported finding "a great disparity between the perceptions that have been generated in some circles concerning the teachings of Watchman Nee and Witness Lee and the actual teachings found in their writings."
This statement can also be found in book form in The Local Churches: "Genuine Believers and Fellow Members of the Body of Christ" and Concerning the Teaching of the Local Churches and Living Stream Ministry.