Christian World Liberation Front (CWLF), the New Covenant Apostolic Order (NCAO), Spiritual Counterfeits Project (SCP) & the Local Churches
Watchman Nee, Witness Lee, Campus Crusade, and the Church
In the late 1950s and early 1960s, the ministry of Watchman Nee exerted a powerful influence among seeking Christians in the West. His classic book The Normal Christian Life became immensely popular after it was published in English in Mumbai, India, in 1957. Then in 1962 his book on the practice of the church according to the New Testament was published in America as The Normal Christian Church Life. Shortly after its publication, his closest co-worker, Witness Lee, immigrated to the United States and began ministering there. For the remainder of the decade Witness Lee labored in Los Angeles to build up a pattern of the church life. He also traveled throughout the United States to visit seekers eager to know Christ in a deeper way and to have a church life that matched the New Testament and Watchman Nee's ministry.
A group of Campus Crusade for Christ leaders was among those deeply affected by The Normal Christian Church Life. This group included Jon Braun, national field coordinator; Peter Gillquist, northern (Big Ten) regional coordinator; Richard (Dick) Ballew, eastern regional coordinator; Gordon Walker, director of the Africa program; Ken Berven, director of the Canada program; and Ray Nethery, director of the Asia program. Throughout the 1960s these men grew increasingly frustrated that, although their work brought many to believe in Christ, they failed on the whole to lead students into a sustainable Christian life beyond their college years.1
A crucial turning point in 1967 was the "Berkeley blitz," in which 600 Crusade staff and students spent a week evangelizing the University of California at Berkeley, the seedbed of campus radicalism. Of the blitz Peter Gillquist said, "Though hundreds of kids 'prayed the prayer' and committed their lives to the Lord, we know of only two that really followed through."2 Gillquist wrote of discussions the Crusade staff members had their annual summer staff training:
"Why aren't we the Church?" we would ask. "Here in the New Testament, the only thing Jesus ever started was the Church." We loved what we were doing, but in the Book of Acts it was Church, not parachurch.3
This stirring had its roots in what they had read in The Normal Christian Church Life.
The Christian World Liberation Front (CWLF)
After the Berkeley blitz and a similar effort and result at UCLA,4 two things happened. First, Braun and his colleagues left Campus Crusade after Braun and some of them failed to persuade Crusade president Bill Bright to convert the parachurch organization into a church.5 Second, in another attempt to reach the radical subculture at the University of California at Berkeley, Campus Crusade for Christ sponsored a pilot experiment in 1969 which came to be called the Christian World Liberation Front (CWLF). Jack Sparks, a former statistics professor and Crusade staff member, quickly became its leader. The CWLF tried to project an image of radical Christianity, frequently repackaging the rhetoric and tactics of the radical subculture around a Christian message. Sparks grew a beard and long hair, dressed in overalls, and became known as "Daddy Jack." CWLF marched, picketed, and disrupted meetings of campus groups such as the Students for a Democratic Society. They glued slogans to the windows of a counterculture newspaper and varnished over them so that they could not be removed without breaking the windows.6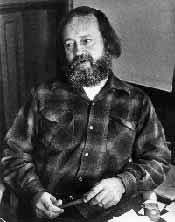 Jack Sparks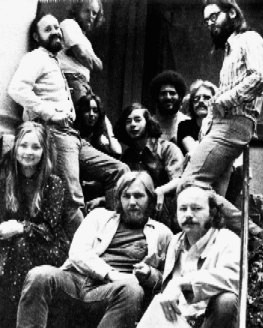 Sparks (upper-left) & the CWLF
The Church in Berkeley
Another group of young Christians was also trying to reach students at UC Berkeley. These believers had been inspired by the ministry of Watchman Nee and Witness Lee to practice the oneness of the Body of Christ on the ground of oneness as the church in Berkeley and to pursue knowing Christ as their life. At one time the headquarters of the CWLF was directly across the street from the meeting place of the church in Berkeley. As the Vietnam War waned and the counterculture became less prominent, CWLF found itself eclipsed on the Berkeley scene by young people who were zealous for the gospel of Christ but who eschewed the counterculture trappings and lawless behaviors of the CWLF. When some members of the CWLF left to join the church in Berkeley, Jack Sparks denounced Witness Lee as a "wolf" and attacked the local churches as a cult.7 He reached out to Jon Braun, whom he had known while he was on staff at Campus Crusade. Braun was embittered after the rancorous breakup in 1971 of a group he had met with in Isla Vista, California.8 The group was led by Gene Edwards, an ambitious person who plagiarized Witness Lee's ministry and passed it off as his own.9 Braun sent Sparks a tape recording in which he excoriated Witness Lee. Sparks used Braun's criticisms in talks to CWLF members. These criticisms were also published and distributed.
New Covenant Apostolic Order (NCAO)
Sparks and his former colleagues at Campus Crusade—Braun, Gillquist, Ballew, Walker, Berven, and Nethery—began meeting together regularly in 1973 to plot a new course. In June of 1975, CWLF split apart when Sparks sought to assert his authority as an "apostle" and convert CWLF into a church with strong elements of Eastern Orthodox practice. In November of that year the seven men formed the New Covenant Apostolic Order (NCAO) and declared themselves to be its apostles.10 Sparks and five of the other NCAO leaders increasingly adopted a unique blend of evangelicalism, Eastern Orthodoxy, and the authoritarian practices associated with the Shepherding movement. In January 1978, when Nethery refused to go along with their direction, he was ex-communicated from the group and anathematized.11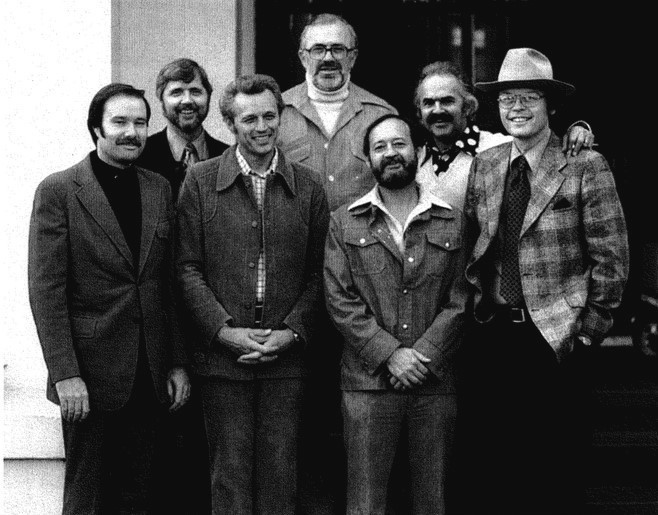 Seven former Campus Crusade for Christ leaders of the early sixties meet in 1974 to form the New Covenant Apostolic Order, the core group that pursued Orthodox Christianity.
Left to right: Richard Ballew, Gordon Walker, Jon Braun, Ray Nethery, Jack Sparks, Ken Berven, and Peter Gillquist.
(Photo by Fr. Marc Dunaway.)
Spiritual Counterfeits Project (SCP)
CWLF functioned as a loose amalgam of "ministries." By the early 1970s CWLF ministries included an underground newspaper, a free "university," a street theater troupe, and several communal houses. In 1974 three CWLF members—Brooks Alexander, David Fetcho, and Bill Squires—formed the Spiritual Counterfeits Project (SCP) with the express intent of exposing religious movements originating in the Far East. Alexander and Fetcho had roots in both eastern mystical religions and drug use but converted to Christianity. SCP quickly rose to prominence in the evangelical world as Alexander and Squires along with Michael Woodruff, an attorney who maintained a close relationship with SCP that spanned ten years, aided the plaintiffs in a lawsuit to keep Transcendental Meditation out of public schools in New Jersey.12 The SCP leaders uncritically accepted the accusations of Braun and Sparks toward Witness Lee and the local churches. Although SCP came to reject the direction Braun and Sparks took and accused them of authoritarianism,13 SCP staff members never reassessed what Braun and Sparks had sown into them concerning either Witness Lee or the local churches.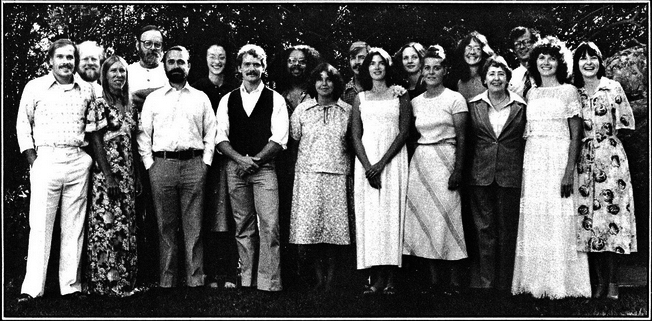 SCP Staff
Alan Wallerstedt's Monograph
Shortly before CWLF's demise, Sparks commissioned a young protégé named Alan Wallerstedt to draft a monograph attacking the teaching of Witness Lee and the local churches. When CWLF disbanded, the remaining parts, including SCP, formed the Berkeley Christian Coalition (BCC). Wallerstedt was one of the few who stayed with BCC yet met with Grace Catholic Church, an NCAO group Sparks founded. Wallerstedt completed his monograph in May of 1976. The manuscript drew heavily on the talks Sparks and Braun had given to CWLF members. Wallerstedt's manuscript included a copy of a woodcut depicting a father and his two sons being taken to be burned during the repression of the Reformers and Anabaptists in the Netherlands under the direction of the Duke of Alva.14 The woodcut seems to be a window into the mindset of Sparks, Wallerstedt, and their NCAO confederates in their "war" against the local churches.15 After completing his manuscript, Wallerstedt left Berkeley, giving a copy of his paper to SCP and another to Sparks, who passed it on to Jon Braun.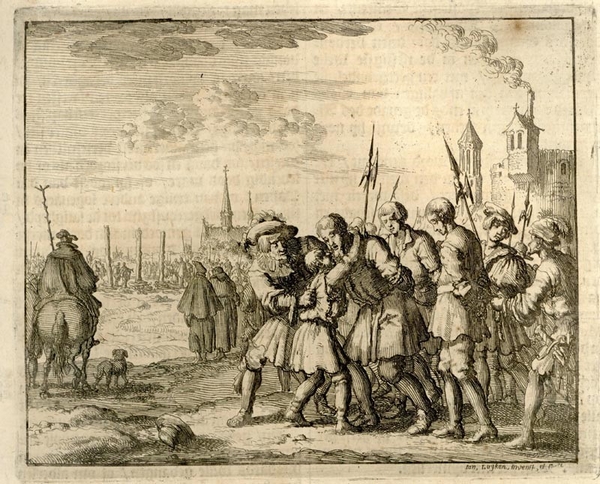 Woodcut included in Wallerstedt's manuscript
SCP Attacks the Local Churches
SCP first came to the attention of the local churches through tracts in which they characterized Witness Lee's teaching as having "Eastern mystical" elements that promoted "mindlessness." On the weekend of July 4-6, 1975, several hundred people attended a conference hosted by the church in Berkeley. As they were leaving the first meeting of the conference, attendees were met by a loud and confrontational group of CWLF/SCP members, one of whom had a bullhorn, stationed outside the auditorium exit, handing out leaflets and denouncing Witness Lee and "The Local Church."
In October and November 1975, SCP sponsored workshops on heretical Eastern religions in nineteen cities across America. SCP's advertisements indicated that the SCP workshops would include "The Local Church." Members of the local churches attended sessions conducted by SCP director Brooks Alexander and others in Atlanta, Dallas, and Austin and publicly refuted their misrepresentations. An April 1977 SCP Newsletter stated that SCP was withdrawing all of its material on the local churches and asked for no further distribution of that material until SCP could complete "a new booklet."
That "new booklet" was one of two related books attacking Witness Lee and the local churches that were then in development. Both came from the animus of Jack Sparks and Jon Braun manifested through the monograph drafted by Alan Wallerstedt. Braun used Wallerstedt's manuscript in writing a chapter for inclusion in a book by Sparks called The Mindbenders. SCP developed Wallerstedt's manuscript into its own book, The God-Men. The publication of both books in 1977 gave added force to the attack on the local churches because it appeared that the books came from two independent sources, when in fact they originated from the same manuscript.
---
Notes:
1 John Turner, Bill Bright & Campus Crusade for Christ: The Renewal of Evangelicalism in Postwar America (Chapel Hill, NC: University of North Carolina Press, 2008), 134.
2 Transcript of interview with Peter Gillquist by Calvin Skaggs, "'With God on Our Side': Campus Crusade," (New York, NY: Lumiere Productions, August 28, 1995), William Martin Religious Right research collection, Rice University, Box 74, 16-17; also Skaggs's interview with Jon Braun in the same collection, 51, 57.
3 Peter Gillquist, Becoming Orthodox (Ben Lomond, CA: Conciliar Press, 1989), 15.
4 William Martin, With God on Our Side: The Rise of the Religious Right in America (New York, Broadway Books, 1996), 94.
5 Gillquist, Becoming Orthodox, 16.
6 Lionel S. Haines, letter to James Miller. January 7, 1981; statement of John Glennon, September 13, 1980, 5-6.
7 Jack Sparks, "Theology, Anthropology and the Mystical Aberrations of Witness Lee," talk given to CWLF members in Berkeley, California, 1973.
8 Ron Ludekens, "The Local Church of Isla Vista: aka Brothers and Sisters," unpublished manuscript, November 28, 1973, 14-16, 20-21.
9 An early example is a message Edwards gave to current and former Crusaders at UCLA titled "God's Eternal Purpose" in January 1969 (later known as "The UCLA Tape"). Every point of truth in his message came from the first two chapters of Witness Lee's book The Vision of God's Building, yet he never credited Witness Lee at all. Instead he spoke of Watchman Nee, saying that his work had been destroyed by the Communist takeover in China, and then said:
But I will not talk of that, of the work God did in the Far East through that man. I'll not commend it to you today because of this: I sincerely believe that, as of now, right now, here today in this room God is going to do a greater thing than He has ever done before.
Edwards met intermittently with the local churches in the late 1960s, first in Tyler, Texas, and then in Los Angeles. After moving on to pursue his own ambitions to be an "apostle," Edwards continued to visit the meeting place of the church in Los Angeles to pick up outlines from Witness Lee's messages, which he would present as his own teaching with his own twist.
10 Ruth Stiling, "An Examination of the Evangelical Orthodox Church" (M.A. thesis, Dallas Theological Seminary, 1980), 19.
11 Joseph H. Fester, "The Evangelical Orthodox Church and Its Dialogue with the Orthodox Church in America" (M.Div. thesis, Crestwood, NY: St. Vladimir's Orthodox Seminary, 1982), 9; Peter Gillquist, letter to NCAO churches, January 16, 1978.
12 Sarah Barringer Gordon, "Malnak v. Yogi: The New Age and the New Law," Law and Religion: Cases in Context, Leslie C. Griffin, ed. (New York: Aspen Publishers, 2010), 11-31.
13 Bill Counts, "The Evangelical Orthodox Church and the New Covenant Apostolic Order," Spiritual Counterfeits Project, Spring 1979.
14 The woodcut, which was the work of Jan Luiken (1649-1712) is "Burning of Jakob Dircks and his sons. Antwerp, 1568." It appeared in Thieleman J. van. Braght, The Bloody Theatre or Martyrs' Mirror of the Defenseless Christians Who Baptized Only upon Confession of Faith and Who Suffered and Died for the Testimony of Jesus Their Saviour … to the Year A.D. 1660.
15 Jon Braun, "My Soul Was Wounded at Watchman's Knee," unpublished manuscript, 24; interview with Ray Nethery, August 1, 1980; deposition of Richard Ballew, February 2, 1981: 204.